Couple in Insurance Claim Battle Upset Their Home was Used in Insurance AD
MSNBC/NBC TODAY — Sheila and Dominic Traina lost their home of more than 40 years in Superstorm Sandy and say their insurance company, Allstate, is refusing to pay their full claim, even while the company used the couple's destroyed home in an ad. NBC's Michelle Franzen reports.
Sandy-Affected NY, NJ Kids Offered Free Summer Camp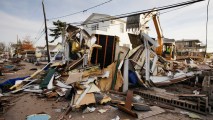 April 24, 2013 — NBC New York
Free summer camp stays are being offered to children from families hit by Sandy in New York and New Jersey.
The American Camp Association is offering hundreds of scholarships to over 90 day and sleep-over camps.
The association's "Heal the Children" program was created after the 2001 terrorist attacks to provide summer camp scholarships for affected families.
Families struck by Sandy are eligible if they have a combined household income of $90,000 or less, lost their primary residence for 90 days, or if their income was cut in half.
Families should contact the American Camp Association through its website or by calling 212-391-5208.
Senate Republican leader Dean Skelos and Assembly Speaker Sheldon Silver promoted the scholarships in a rare shared press conference Tuesday.
Feds Give Sandy Victims Up to 1-Year Break on Mortgages
April 15, 2013 — NBC New York
Federal mortgage payment relief has been extended up to one year for more than 200,000 homeowners whose houses were damaged by Hurricane Sandy.

U.S. Housing and Urban Development Secretary Shaun Donovan announced the extension for homeowners with Federal Housing Administration-insured loans on Friday.
A previous mortgage payment extension for federally-backed home loans was set to expire on April 30. About 286,000 homeowners with FHA-insured loans were affected by the late October storm, with nearly 96,000 in New York.

Donovan said the 12-month extension was meant to help homeowners still struggling to rebuild avoid foreclosure.